The average renters insurance premium in Texas is $232, which is $58 more than the national average. The costs varies a lot from the cost of your personal property, the deductible you choose, and other factors.
Find the best renters insurance in Texas
Compare the top insurance brands at once for free
According to a study1 by NASA, Texas is ranked first in the U.S. in the variety and frequency of natural disasters. After all, everything is bigger in Texas - including potential risks. With floods, tornadoes, and hurricanes, all with potentially devastating consequences- it's likely you've seen on the news cases where apartment buildings and homes were completely destroyed. Although renters insurance policies do not cover all the perils, it is a valuable financial tool to help you cover your personal property for a very affordable price.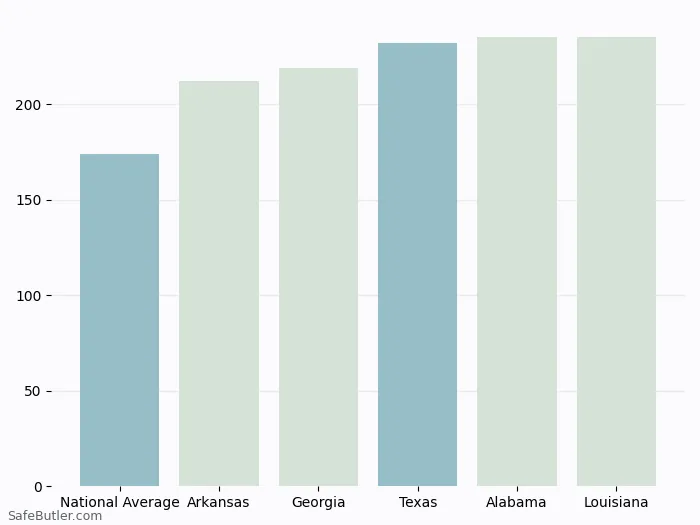 The average renters insurance premium in Texas was $232 a month. How much you'll end up paying will depend on several various factors, such as your chosen policy and personal background. You can lower the renters insurance cost by getting a security system, setting up automatic payments, and living in a safer neighborhood. Fortunately, a landlord must pay for basic security devices under the Texas Property Code Chapter 92, Subchapter D. Also, consider how much liability coverage you'll purchase. This type of coverage can protect you from damages incurred by your home, inside of your home, and by yourself in someone else's home.
If you are wondering how much it costs for you, hit the big button below to get your free quotes.
---
Types of Renters Insurance in Texas
Basic renters insurance in Texas covers your personal property if they get stolen, damaged, or otherwise destroyed outside of your control. The covered perils include fire damage or storm damage. You won't see floods and earthquakes covered in most policies in the state of Texas. The property covered includes furniture, clothing, and cookware. However, there is a limit to how much your insurance will cover, so don't expect it to help pay to replace all of your expensive electronics. How much overall coverage you get will depend on the policy. When you get your renters insurance, you decide how much liability coverage you want. This coverage can help pay for medical or property charges incurred on your property.
Benefits of Renters Insurance in Texas
While it isn't required by law in Texas, some landlords require renters insurance before you move in. One of the biggest benefits of renters insurance is how it can save you money. It's not too expensive, and it can save you thousands of dollars down the line if you ever need it. It not only covers your personal property in your home but wherever you travel as well. In some cases, your policy may cover additional living expenses, such as living somewhere else temporarily if your home becomes uninhabitable.
💡

Takeaway: Renters insurance while not required by law in Texas, is a worthwhile small investment that covers your personal belongings as well as liability for others' injuries on your property. Click here to compare the prices for renters insurance in your area.
What are the types of coverage for Renters Insurance in Texas?
So what does a renter's insurance policy typically cover? In Texas, policies typically provide the types of coverage listed below. It's important to remember that while most renter's policies cover losses due to fire, smoke, theft or vandalism, and certain kinds of water damage, flood damage, is usually not covered. Flood insurance policies are generally under a separate category. Ultimately, it is your responsibility to make sure you have and maintain the adequate coverage for your renter's insurance.
Personal Property
This is the total value of your personal belongings. It commonly includes furniture, clothing, and electronics. One thing you should be aware of is that most carriers exclude expensive items such as jewelry, art, cameras, or high-end bicycles in this coverage, and you will need to get separate policies or additional coverage for these items.
Liability
This covers your bills or legal fees if you're deemed responsible for an injury that happened on your property. According to our quote data, this coverage won't have as significant an impact as personal property to your final premium.
Loss of use
When your property becomes unlivable due to a covered reason, like a fire or other significant damage, loss of use coverage allows you to be reimbursed for living expenses while your rental is repaired.
💡

Replacement cost vs. Actual cash value
If you bought an iPhone for $1,000 two years ago, it may only be sold for $500 now. Normally a renters insurance policy will pay $500 if your iPhone is destroyed - this is called the actual cash value, or ACV. If, however, your policy covers the replacement cost, you can utilize your insurance to cover a new iPhone with the same model.
How does pricing compare amongst the big name carriers?
Because there are a broad range of carriers that offer renter's insurance policies, it's important to shop around and compare policies and prices to find the best fit for your lifestyle and budget. You'll want to be certain that you have good coverage - without paying more than necessary. That's why it's worth comparing the cost of renters insurance from a few different insurance companies. For an idea of how the different major carriers compare when it comes to pricing for renter's insurance in Texas, take a look at these average yearly premiums:
| Carrier | Average Annual Premium in Texas |
| --- | --- |
| GEICO | $246 |
| State Farm | $192 |
| Allstate | $310 |
| Lemonade | $138 |
| Liberty Mutual | $124 |
| Assurant | $230 |
What factors impact the Renters Insurance price in Texas?
The amount of coverage you chose

The value of your personal property and whether your policy covers ACV or replacement costs
The amount of your deductible
The amount of liability coverage you choose

The location of your rental home
Are the crime rates exceptionally high in your neighborhood? Rates may be higher as a result. Is the area prone to higher risks for wind or hurricane damage? These factors matter as well.
Discounts
You may be eligible for discounts if you have purchased other insurance policies with the provider or bundled your insurance. There are also discounts available for renters with added security features- such as deadbolt locks, security systems, smoke detectors, etc.
What discounts are available for Renters Insurance?
Most carriers provide various discounts for renters insurance, much like auto insurance. Below, you'll find the most common discounts.
| Discount | Description |
| --- | --- |
| Multi-Policy | If you purchase both renters and auto insurance from the same company, you may qualify a discount for the auto insurance. |
| Secure Home | If you have extinguishers, burglar alarms devices or you are in a gated community, you may qualify for the secured home discount. This averages to a discount of about 5% for most carriers. |
| Claim-free | Just like auto insurance is lower for accident-free drivers, renters insurance is also cheaper for claim free tenants. If you have never reported any claims before, you will qualify for the claim-free discounts from quite a few carriers. |
| Age | Usually, for renters insurance, older people pay less than younger people for a similar property. So, if you're a college student and trying to find a renters policy for your apartment near school, you are likely to pay more. |
| Good Credit | A customer with a credit score higher than 700 can often get a better rate than those with lower credit scores. |
| Pay-in-full | If the carrier supports both monthly and yearly payment, paying in full each year will likely give you a discount. In other words, if you choose to pay monthly, you should pay attention to the extra fee charged by your carrier. |
| Paperless | A few carriers even provide paperless discounts. This discount is not as common with newer carriers, so it may not be available with your policy. |
What are the risks to consider in Texas?
Unfortunately, most renter's insurance policies do not cover damages to your personal property caused by a flood or an earthquake. Texas tenants do face the risks of natural hazards such as fire, floods, and hurricane . Therefore, it is also a good idea to check with your insurance agent and learn more about what policies are available that cover these specific disasters.
Fire
Floods
Hurricane
Last but not least, thanks to the increased risk of the exposure of personal information on the Internet in today's digital world, it is also important to check if your renter's insurance provides identity theft protection.
Looking for the best renters insurance in Texas?
Insurance is meant to protect people from unexpected expenses. The last thing you want is to pay to repair your neighbor's car when your AC unit falls on it. Finding affordable renters insurance is difficult enough, let alone finding dependable renters insurance in Texas. Searching and comparing insurance policies by yourself can take days, if not weeks. You also shouldn't have to break the bank just to feel protected. SafeButler can help you compare policies from hundreds of providers, all for free. Get a free quote today and find the best renters insurance Texas has to offer.
Find the best renters insurance in Texas
Free, Instant, and No Spams Ever
Renters insurance rates for cities in Texas
We compiled data about Renters Insurance rates for every city in Texas. This list is updated on Jan 06, 2020. A word of caution, as you explore the list below, there is no doubt you will find a wide price range.
References
Find your perfect insurance policy
Compare the top insurance brands at once for free
Disclaimer
Our articles are intended for informational purposes and should not be considered legal or financial advice. Our articles are not written or reviewed by insurance agents. Consult your policies with your agent or a professional for details regarding terms, conditions, coverage, exclusions, products, services, and programs.

SafeButler Inc. strives to ensure that the information on this site is up to date, but we will not be held liable for any delays, inaccuracies, errors, or omissions. This site and all materials contained on it are distributed and provided "as is" and "as available" for use. SafeButler.com makes no representations or warranties of any kind, express or implied, as to the operation of this site or to the information, content, materials, or products included on this site. You expressly agree that your use of this site is at your sole risk.